World Biggest Cricket Stadium: The Narendra Modi Stadium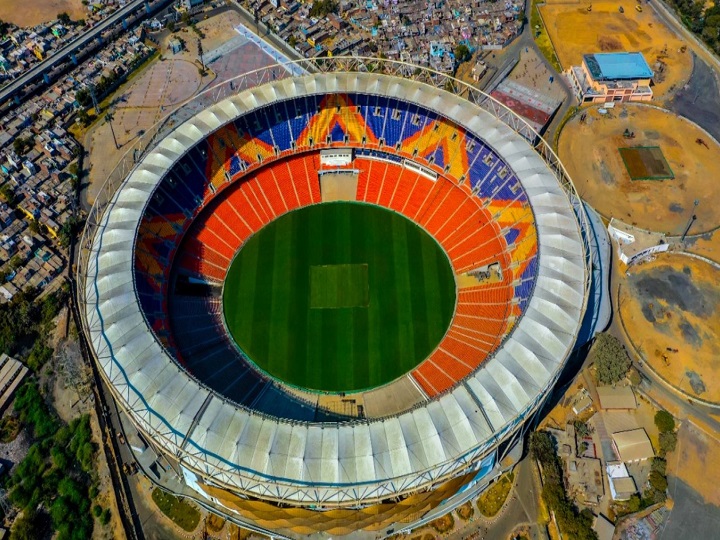 Biggest Stadium In The World
The Narendra Modi Stadium, formerly known as the Motera Stadium, is a cricket stadium situated inside the Sardar Vallabhbhai Patel Sports Enclave in Ahmedabad, Gujarat, India. As of 2021, it is the largest stadium in the world, with a seating capacity of 132,000 spectators. Motera Stadium is known as Sardar Patel Stadium. On February 24, Prime Minister of India Narendra Modi and US President Donald Trump will jointly address a large gathering at this cricket stadium equipped with the world's largest and modern facilities with a capacity of one lakh 10 thousand spectators.
Old Motera Stadium in Ahmedabad, Gujarat was completely demolished in 2015 and then the construction work started again in 2017 and the new facilities called Sardar Patel Stadium (Motera Stadium) and more capacity. Narendra Modi Stadium is now the largest cricket stadium in the world. Located in Gujrat, Ahmedabad.
Cricket's World Biggest Ground
Are you know biggest capacity cricket stadium in world is Narendra Modi Stadium? Narendra Modi Stadium has been completely renovated. It is claimed that seating of 1 lakh 10 thousand spectators is arranged in Narendra Modi Stadium. Although the history of this stadium is old. The Gujarat government first donated 50 acres to build the Motera Stadium. After this, Motera Stadium was built in 1982. Motera Stadium has been renovated at a cost of Rs 750 crore. It took more than four years to get the stadium ready from scratch. Motera Stadium is the World's largest Cricket Stadium in the world.
The Stadium is Equipped with Modern Technology
World largest cricket stadium: Australia's Melbourne Cricket Stadium is considered to be the largest before it. Melbourne Cricket Stadium has a seating area of ​​about 1 lakh people. But it is claimed that 1 lakh 10 thousand spectators can watch the match in Motera Stadium. In this way this stadium will become the biggest ground in cricket.
However, no match has been played at Motera Cricket Stadium since it was prepared afresh. There are claims that this cricket stadium is fully equipped with modern technology. There are 11 different pitches in this stadium. Apart from this, arrangements have been made to remove all the water from the ground in just half an hour. It is being claimed that Motera Stadium has parking facilities of three thousand cars and 10 thousand two wheelers.
Features of the New Stadium
Three practice grounds, club house, Olympic size swimming pool and an indoor cricket academy have also been built in the world's largest stadium.
The structure of the stadium is such that every time a player hits the boundary, every cricket lover sitting in the stadium can see that boundary.
Car and scooter parking is provided. In which there is a provision of parking of 4 thousand cars and 10 thousand two wheelers.
For the first time, LED lights will be installed in a stadium.
A metro line has also been brought near the stadium.
In addition, 75 corporate boxes have been built.
Separate arrangements have been made for entry and exit at the stadium.
The stadium also has four world-class dressing rooms.
Melbourne Cricket Ground (MCG), Australia is simply known as "The G". As of now it is the largest cricket stadium in the world. The stadium has an audience capacity of about 1,00,024 and the size of the field is 171 meters x 146 meters. The Gujarat Cricket Association (GCA) handed over the stadium project to Larsen & Toubro (L&T), while its design will be done by architecture firm M / s Populous. It is the same firm that designed Melbourne Stadium.